The North End Action Team (NEAT), a resident/activist community organization in Middletown's North End, seeks a Community Director.
What Can I Do?
Teen Leadership Institute
"The Teen Leadership Institute is program designed to teach leadership values for teenagers. This includes civic engagement and field trips to local colleges and universities."
Posted On: Mar 10 2016 - 8:48pm
NEAT 2016 and onward
As we continue into the New Year, we're excited about programs old and new. Steadfast programs like the Hiking Club and new programs like Thurston Whitaker Character & Etiquette Class are providing exciting experiences for North End youth. Please be patient while we update our website. You can find the most updated content on our Facebook page. Look out for North End Pride Day in April!
Posted On: Mar 10 2016 - 8:55pm
North End Action Team Community Director
The North End Action Team (NEAT), a resident/activist community organization in Middletown's North End, seeks a Community Director.
Posted On: Jul 22 2016 - 2:24pm
Community Renewal Team - Eviction and Foreclosure workshop in Middletown
CRT is holding working a workshop in Middletown
March 17, 2016
5 – 7 p.m.
Russell Library, 123 Broad Street, Middletown, CT (Hubbard Room).
Posted On: Mar 10 2016 - 9:05pm
HIKE WITH NEAT
Are you interested in getting outside this summer? Do you like the outdoors? Then, come hike with the NEAT Hiking Cl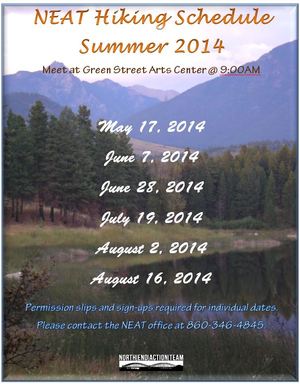 ub! Hikes are targeted to youth ages 8-14. NEAT's next hike of the season will be taking place on May 17th, 2013. Grab your hiking shoes, bottle of water and gear up! Hikers will gather in the Green Street Arts Center Parking Lot at 9:00 AM. You may also check out the full list of the hikes on the right. If you are interested, please call the NEAT office at 860-346-4845. Sign-ups for each hike and permission slips are required.
Posted On: May 8 2014 - 1:01pm
Summer Camp!
There is still time to sign-up for summer camp! Stop by the NEAT office for applications and help. If your child is interested in doing Circus Camp at Oddfellows, spots are
open! For a preview of Circus, check out the picture on the right from Oddfellows Circus Camp 2010 featuring the advanced circus troupe jumping over a ring of fire!
Posted On: May 15 2014 - 8:17am
HELP US TAKE MACDONOUGH SCHOOL 4TH GRADERS OUT ON THE RIVER
The Jonah Center is working again with Macdonough School and the North End Action Team (NEAT) Hiking Club to include 4th graders on our river pa
ddle on Saturday, June 28, at 1 p.m. The event will introduce these neighborhood boys and girls to the natural wonder that surrounds their neighborhood, to paddling in general This year, our paddle will include a "crowd performance art" event usingcanoes and kayaks on the water to create a stunning visual effect when photographed from the Arrigoni Bridge. Imagine the picture shown here (left, above), but with 50 canoes and kayaks radiating from a center point to form a giant colorful starburst. The Macdonough students will be passengers in canoes, or they may paddle if there is space and they feel confident doing so. We have 2 challenges: 1. We need to find canoes that can each transport 1 or 2 students, most of them sitting on a boat cushion on the bottom of the canoe. Last year we had about 12 students who were thrilled to be among the many paddlers who made the trip – about 60 of us in all. The principal of the school, Jon Romeo, is very enthusiastic about all the ways students benefit from an outing like this. Since I know (or believe) that you have a canoe, I'm writing to ask if you would be able to help with this effort? If so, that would be fantastic. No donation will be asked from those transporting the kids. (We will ask $10 per person from others.) 2. We need financial sponsors who can donate $30 to cover the insurance costs for the 4thgraders and the canoes and canoeists that will carry them. Contact the Jonah Center if you can help.
Posted On: May 15 2014 - 8:31am
<